King size: 1/6 scale models
---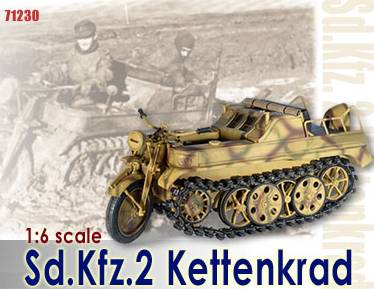 DRAGON MODELS Ltd.
DRAGON MODELS Ltd. from Hong Kong, well-known for their excellent models in smaller scales, has issued the new Kettenkrad model in the big 1/6 scale in December 2006.
For details, have a look at their official website: www.dragon-models.com
Compared with the existing 1/6 scale models and even the 1/9 scale ESCI model, the new model is much closer to the original Kettenkrad and also much more detailed.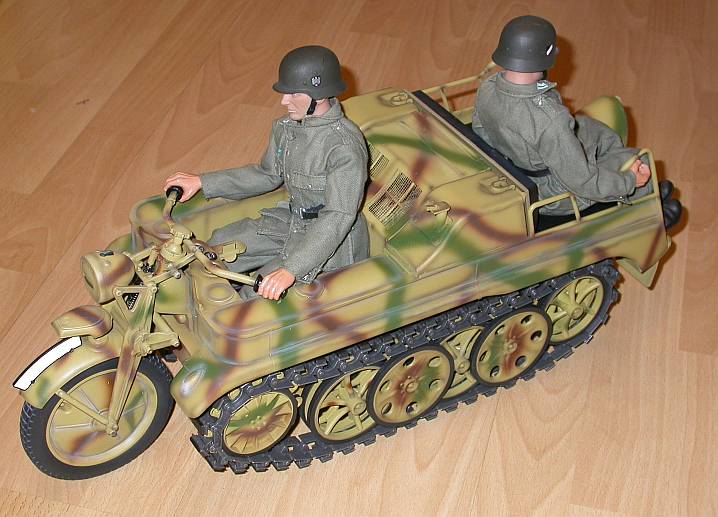 My two German Infantry from 21st Century Toys are happy with the new model. First came the version in dark yellow paint with a stripe camo scheme (as seen on the picture). Later came the version in Panzergrau (Dark grey), too and there is the fitting trailer, Sd.Anh. 1 available.
Hera are pictures from a patrol in my garden: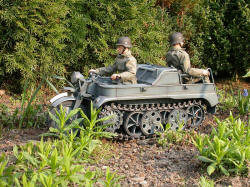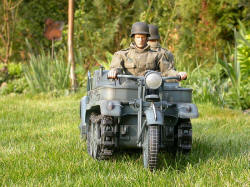 Download the pictures in full size by clicking on the small pics!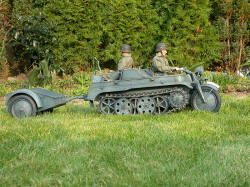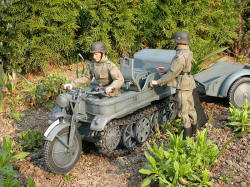 At first the models were only available as ready built models. Later DRAGON offered them as assembly kits, order no. 75001. While the ready built models had a good replica of the OPEL engine, the assembly kits don't have parts for the engine and the radiator. The engine compartment stays empty.
It is a huge impressive model and there are only a few drawbacks:
There is no suspension. the bogie wheels are simply put on rigid studs on the sides of the hull. So so model is not really made to be converted to a R/C driving model.

There is no exhaust silencer. DRAGON simply forgot the part.
---
21st Century Toys
For years the huge 1/6 scale toy model from 21st Century Toys was the biggest Kettenkrad model available. The vehicle is really big: 50 cm (20") long! It is more a toy than a scale model and it is made for the 12" action figures (Action Man, Dragon, 21st Century Toys etc.). The model was available in Sandgelb (Dark Yellow) and Panzergrau (Dark Grey).
It is not an exact scale model. It is too wide and it is simplified to make it last longer as a toy. Some modellers have added a motor and a remote control to this vehicle.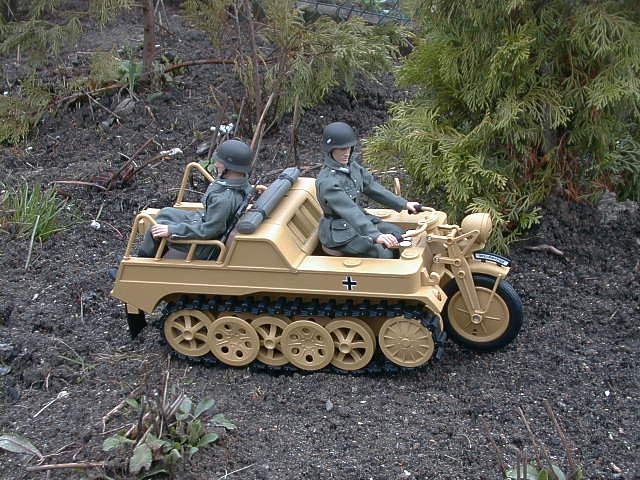 This picture shows the vehicle on patrol in our garden. The two figures are the "German Infantry", also from 21st Century Toys. Here you see the typical wrong use of the bar-cross: It was only used on armo(u)red vehicles, never on soft-skin vehicles.
The model is discontinued (December 2006) and no longer availabale.
---
Cherilea
In the 70s the British company Cherilea built a Kettenkrad model for the popular Action Man toy figures. It is also in 1/6 scale.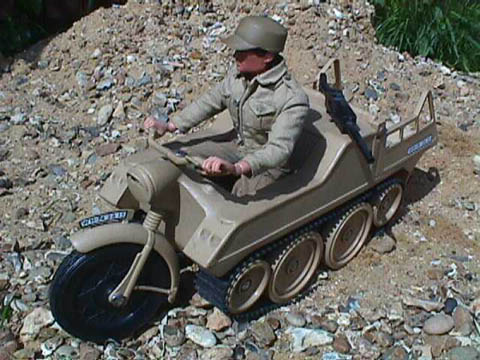 It is a very simple made toy model, really not an exact scale model but everyone recognizes the Kettenkrad. The vehicle is equipped with a machine gun, which can fire little plastic bullets.
The figure seen on the picture is a genuine Action Man.
---
© Andreas Mehlhorn 2003-2012
---