The small ones (1/72 scale and smaller)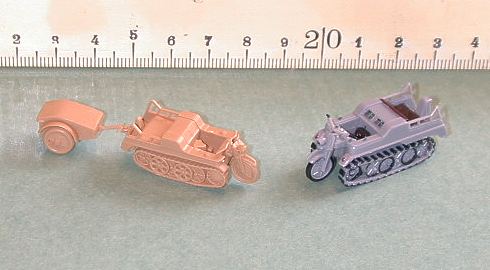 Here are the really small ones:
On the left the 1/87 (HO-scale) ready built Kettenkrad from Trident Miniaturen, Austria.
The grey one on the right is made from the 1/72 HASEGAWA kit 31113.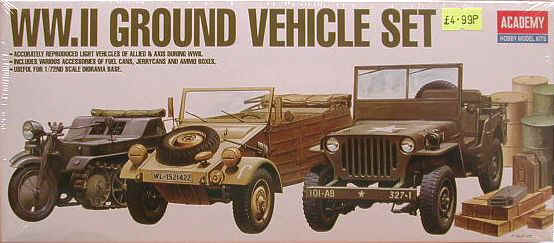 My BELTRING 2000 souvenir: The "WW2 Ground vehicle Set" in 1/72 scale from the Korean company "Academy Plastic Model Co., Ltd". Contains a NSU HK 101 Kettenkrad, a Volkswagen type 82 Kübelwagen, a Willys Jeep and some accessories (barrels, jerrycans, crates).
---
This is the smallest Kettenkrad model I know: Scale 1/285, made by GHQ from the USA.
You can't buy it alone, it is part of a bigger set with several other vehicles from the series "MICRO ARMOUR".

More information you an find on the GHQ homepage:
(External link opens new browser window)

Here you see, how small the model really is, when you compare with the calipers. It is rough 11 mm long.
---
© Andreas Mehlhorn 2002-2009
---