The big ones: 1/9 scale model kits
The biggest plastic model kit is the well-known 1/9 scale kit from ESCI. The real Kettenkrad is 3 metres (118") long and 1 metre (39.4") wide. So the 1/9 scale model is 33 cm (13") long.
The problem with the 1/9 ESCI-kit is that it's real working swinging arm wheel suspension is too weak. This is a problem the model shares with the original full-size Kettenkrad...
The modell is very detailed, including the engine. Some details are wrong. This came, because the designers of the model took the details from an existing Kettenkrad, which was not in perfect original condition. I think they took the details from the Kettenkrad at the Musée des Blindés at Saumur (France).
| | |
| --- | --- |
| | This picture shows the old 1/9 model from ESCI (unfinished) together with the 1/35 model from TAMIYA (with trailer) and the small 1/72 model from HASEGAWA |
The ESCI kit was discontinued for many years and hard (=expensive) to get. It was re-released by DRAGON (no. 1804). The vehicle itself was the same, but DRAGON added a driver figure. In some cases the kit with the driver figure was sold under the ESCI label: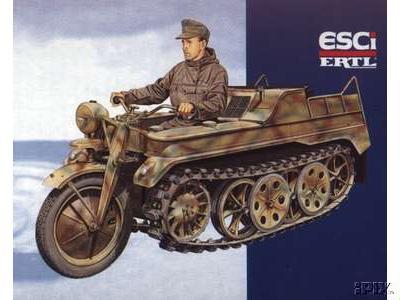 The DRAGON driver figure is too tall. In 1:9 scale the guy is more than 1.90 m tall, and such a tall guy has big difficulties to sit in a real Kettenkrad. In WW2, the average soldier wasn't that tall and the wartime vehciles were not made for such tall drivers.
Meanwhile the DRAGON kit is sold out, too and REVELL has re-released the kit. REVELL left off the driver figure but the rest of the model comes from the same moulds as the former ESCI and DRAGON version. So many things are still wrong with the model.
Worst thing is the "turret" at the rear between the legs of the passengers. The shape and size still is completely wrong.
---
© Andreas Mehlhorn, 2003-2009
---