My Kettenkrad #2
During the years 1998 - 2000, I found nearly no time to finish my Kettenkrad #1 restoration. So I bought another one in 2000, which needed much less work to finish.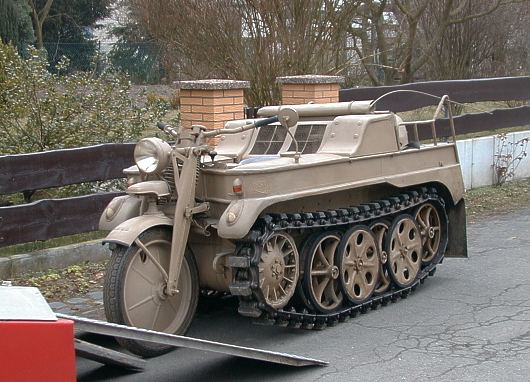 This is my second NSU Kettenkrad, just rolled down from the truck, which hauled it to my garage. It is built in 1942, chassis number 111157.
The previous owner died three years ago and his son now sold it. It was complete, including trailer, but didn't run, because the right steering brake was full of oil. The former owner had started to repair it, but never finished it. Meanwhile I've repaired it and the vehicle runs well.
On the 4th of April 2000 I've registered it for legal use on public roads. Until May 2000 I've driven more than 250 km with it and I want to make it reliable for the Beltring War & Peace Show in July 2000.
Here are some more pictures, taken still in the workshop of the previous owner:
| | |
| --- | --- |
| | The front fork is the hydraulic damped version from 1944.In the front the original trailer. |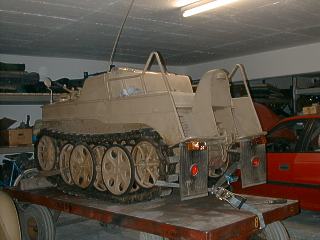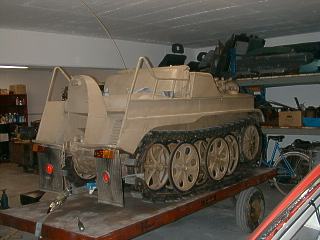 The back side. Modern taillights are added for road registration.
The dashboard
Note the flat dashboard of the very early Kettenkrads. The original data plates are still there. Tachometer and thermometer are not the original ones. Switch for the turn indicators added on the right,
switch for hazard warning system on the left.
The trailer
Note the original handles for human power towing.
The tow bar is not original. It is around 12" too long. I'll have to fix that.
---
---