Kettenkrad #3
A short while after I've bought Kettenkrad #2, I got an interesting offer from Switzerland. A postwar Kettenkrad in very good original condition. Never restored, with 2500 km on the clock, matching numbers and all the goodies were there!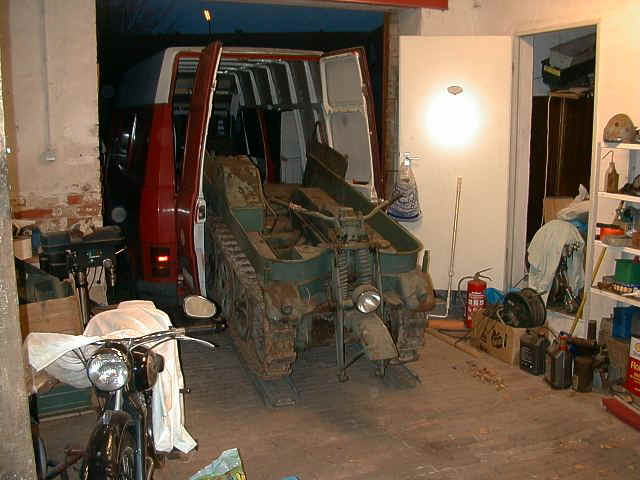 This is Kettenkrad #3, just rolling down from the little FIAT DUCATO truck into my workshop. Headlamp and side lamps are the original post war versions!
It is built in 1948 (says the original data plate) or 1949 (says the original title). Chassis number is 549 (postwar). The title is issued from the NSU factory in 1951.
It is a very late one. The records of the NSU factory say, that NSU produced 550 post war Kettenkrads. This is number 549, so may be it is the last but one ever produced Kettenkrad!
The front wheel is damaged and the previous owner drove the vehicle without frontwheel. (This is recommended by the driver's manual for use in rough terrain like rock or deep mud!)
It has an interesting colour scheme: The complete vehicle is painted green and it looks as if it came out of the factory with the green paint.
Under the green paint some parts are black (front fork, front wheel, battery- and toolbox outer road wheels) and some parts are Sandgelb (dark Yellow): Bonnet (hood), inner road wheels, handlebars.
This peculiar colour scheme is also shown on the factory picture of the 500th post war Kettenkrad on the assembly line!
Who knows more about the original colour scheme of the postwar Kettenkrads?
Here some more pictures of my Kettenkrad #3:
The engine. Engine no. 4800030. It is the original engine of the vehicle, the engine number is stamped on the data plate of the vehicle . Number says that it is the 30th engine which OPEL produced in 1948.

Picture shows the engine from the left side. In the Kettenkrad the engine is fitted with the clutch to the front and the fan belt to the rear. Note the cooling water expansion tank on top of the water pump. As a post war engine, it has no oil filter. The distributor cap is not the correct one.

Click on the small pictures to load the bigger versions!

And that's how this engine looks now (February 2006): It is rebuilt and runs perfectly.
Have a look at the correct fitting of the OPEL/CARTER carburettor: The float chamber to the front!

The dashboard with the original instruments. Also the ignition key (in the middle) and the light switch (on the right) are original.
Because the late wartime and post war Kettenkrads have no motorbike headlamp with ignition switch and light switch, these switches went to the dashboard in summer 1944.
---
© Andreas Mehlhorn 2002-2009
---